Much to our surprise the boards and the pylon logs arrived in Tres Unidos. We orderd the wood during our last Trip in September and everybody told us it would need a lot of time to cut in shape and deliver it to the village.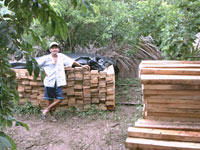 Obviously it could be managed faster than expected and now the logs are stored on a central place, ready for assembly.
However, the summer rainfalls have started and the river is impassable right now. We have to wait for the next low
water period. After all, we orientate on January for the final construction.